How to Remove Win 7 Total Security 2011 Virus? Eliminate and Get Rid of Win 7 Total Security 2011 Virus Completely
Win 7 Total Security 2011 Virus is not a legitimate and Real Antivirus Program but itself a virus, more precisely a new kind of fake antivirus program from the same family of Fake Microsoft Security. The only difference being the core files are modified a little bit and the name is changed to hide it's detection by legitimate Antivirus programs installed on your PC.
XP Anti-Virus 2011, Vista Total Security 2011, and Win 7 Home Security include some of the names that a new name-changing rogue will randomly use when installing itself on a victim's computer. When this particular rogue is installed, it will install itself as a variety of different program names, with each having their own graphical user interface depending on the version of Windows that the computer is running. Regardless of the name, though, they are all the exact same program with just a different name and GUI.
This rogue goes by many different program names, which are listed below based upon the version of Windows that it is installed on.
The different names of viruses include:
XP Anti-Virus
Vista Anti-Virus
Win 7 Anti-Virus
XP Anti-Virus 2011
Vista Anti-Virus 2011
Win 7 Anti-Virus 2011
XP Anti-Spyware
Vista Anti-Spyware
Win 7 Anti-Spyware
XP Anti-Spyware 2011
Vista Anti-Spyware 2011
Win 7 Anti-Spyware 2011
XP Home Security
Vista Home Security
Win 7 Home Security
XP Home Security 2011
Vista Home Security 2011
Win 7 Home Security 2011
XP Total Security
Vista Total Security
Win 7 Total Security
XP Total Security 2011
Vista Total Security 2011
Win 7 Total Security 2011
XP Security
Vista Security
Win 7 Security
XP Security 2011
Vista Security 2011
Win 7 Security 2011
XP Internet Security
Vista Internet Security
Win 7 Internet Security
XP Internet Security 2011
Vista Internet Security 2011
Win 7 Internet Security 2011
When installed, this rogue pretends to be a security update for Windows installed via Automatic Updates. It will then install itself as a single executable with a random 3 letter name and configures itself to launch, if not already started, every time you start another executable. It will also modify certain Windows Registry keys so that when you launch FireFox or Internet Explorer from the Window Start Menu it will launch the rogue instead and display a fake firewall warning.
Like this one below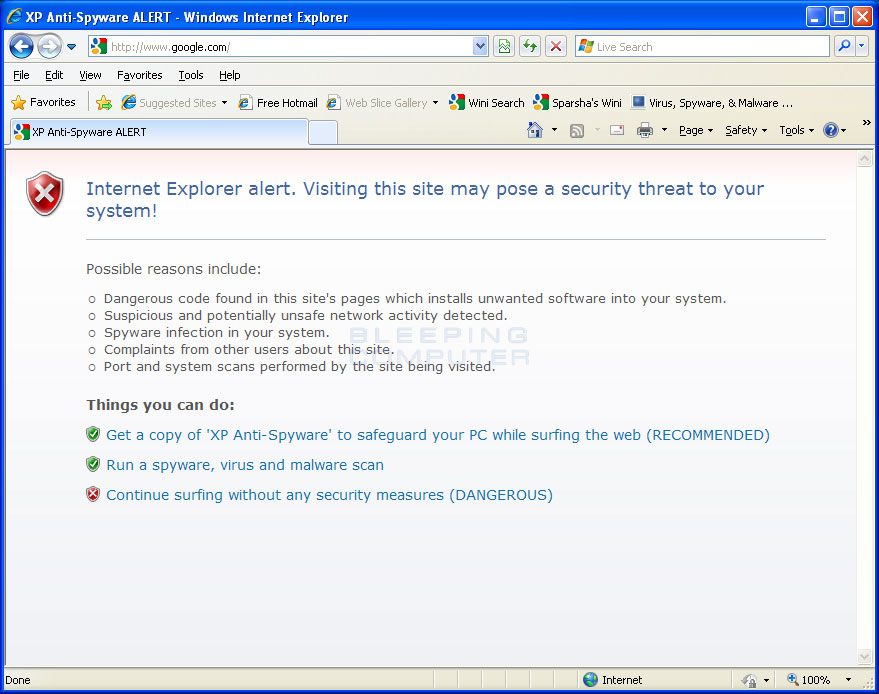 While Win 7 Total Security 2011 Virus is running, it will block the ability to run any programs as a method to scare you into thinking that your computer is infected with malware.
Once started, the rogue itself, like all other rogues, will scan your computer and state that there are numerous infections on it. If you attempt to use the program to remove any of these infections, though, it will state that you need to purchase the program first. In reality, though, the infections that the rogues states are on your computer are all legitimate files that if deleted could cause Windows to not operate correctly. Therefore, please do not manually delete any files based upon the results from this rogue's scan.
The rogue also utilizes aggressive techniques to make it so that you cannot remove it. When you attempt to launch a program, if it is considered to be a security risk, the rogue will terminate it and instead display a false security alert stating that the program is infected. The following warnings are shown.
Win 7 Anti-Spyware 2011 Firewall Alert
Win 7 Anti-Spyware 2011 has blocked a program from accessing the internet
Internet Explorer is infected with Trojan-BNK.Win32.Keylogger.gen
Private data can be stolen by third parties, including credit card details and passwords.
System danger!
Your system security is in danger. Privacy threats detected. Spyware, keyloggers or Trojans may be working the background right now. Perform an in-depth scan and removal now, click here.
System Hijack!
System security threat was detected. Viruses and/or spyware may be damaging your system now. Prevent infection and data loss or stealing by running a free security scan.
Privacy threat!
Spyware intrusion detected. Your system is infected. System integrity is at risk. Private data can be stolen by third parties, including credit card details and passwords. Click here to perform a security repair.
Stealth intrusion!
Infection detected in the background. Your computer is now attacked by spyware and rogue software. Eliminate the infection safely, perform a security scan and deletion now.
Internet Explorer alert. Visiting this site may pose a security threat to your system!
Possible reasons include:
- Dangerous code found in this site's pages which installed unwanted software into your system.
- Suspicious and potentially unsafe network activity detected.
- Spyware infections in your system
- Complaints from other users about this site.
- Port and system scans performed by the site being visited.
Things you can do:
- Get a copy of Vista Antispyware 2011 to safeguard your PC while surfing the web (RECOMMENDED)
- Run a spyware, virus and malware scan
- Continue surfing without any security measures (DANGEROUS)
Of course, all of above warnings and alerts nothing more but a scam and like false scan results should be ignored!
As you can see Win 7 Total Security 2011 Virus, is a scam that is designed with one purpose to trick you into purchasing the so-called full version. Do not fall for these virus creators bait into buying the Rogueware and if you already have, you should contact your credit card company and dispute the charges.
IF you want, you can contact free technical support for removing this virus below mentioned is the number for free technical support :
1.removal of spyware,malware and virus
2.servicing of pc
3.installation of free antivirus
the service above mentioned is a free service.
thanks for reading article.